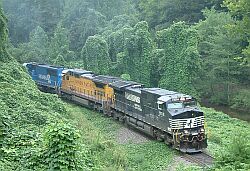 Welcome to the RRPictureArchives.NET contributor site of Mike Molnar.

I'm a railfan from Windsor, Ontario Canada. I'm currently a University of Windsor student studying music performance on the bass, specifically electric bass in the jazz stream of the program. I mostly railfan along CP's mainline between Detroit, MI and London, ON. which is the Windsor Subdivision. I also see ETR, CN and VIA in Windsor. I go down to Fostoria, Ohio a couple of times a year as well. I have also done trips to Indiana, London, Sarnia and Hamilton for train watching.

You may browse my collection of pictures via the menu located on the left hand side of the page. I hope you enjoy the collection and thanks for stopping by!
Note: This site is best viewed in Internet Explorer 6.0 or above.
Select one of the links from the menu on the left to begin browsing the collection.